Penny S. Underwood
Clerk Of Courts
Penny S. Underwood
Clerk Of Courts
Penny S. Underwood
Clerk Of Courts
Champaign County Clerk Of Courts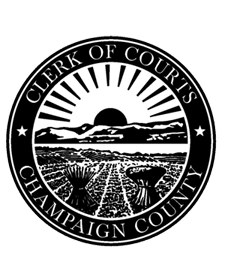 Welcome to the Champaign County Clerk of Courts Website.
Thank you for visiting the website of the Champaign County Clerk of Courts. It has been an honor and a privilege to serve as your County Clerk of Courts since December 2008. I greatly appreciate that you have entrusted the duties of this office to my care. As the Clerk of Courts, I pledge to continue working towards advancements in the office, as well as making decisions that best serve the present and the future of Champaign County. I would like to extend an invitation to you to stop by any of the four (4) offices that comprise the Clerk of Courts office: Legal Division, Title Division, Bureau of Motor Vehicles, and Driver Exam Station to see our progress.
Click here to view the local rules of the Common Pleas Court.
The Champaign County Clerk of Courts computer record information disclosed by this system is current only within the limitations of the Champaign County Clerk of Courts data retrieval system. There will be a delay between court filings and judicial action and the posting of such data by the clerk of Champaign County Clerk of Courts for some or all of the filing types. The aforesaid delay could be at least twenty-four hours, and may be substantially longer. The User of this system is hereby notified that any reliance on the date displayed on the screen is at your own risk and liability. Information on the system may also be altered, amended, or modified without notice. If you require verified and timely information as to the records of the Champaign County Clerk of Courts, you may call between the hours of 8:00am and 4:00pm (937) 484-1047 to speak directly to the clerk or deputy clerks or access the records at the Champaign County Clerk of Courts located at 200 N. Main St., Urbana, Ohio 43078.
Note: By law, Court personnel are not permitted to provide legal advice to ANY individual in any form.